Harrow School was founded during the reign of Queen Elizabeth I, and has a global reputation as an outstanding school. Distinguished writers, politicians from around the world, and Nobel laureates have all studied at Harrow.
Securing a place at this highly selective school is a tough challenge, and you will find a number of key topics to do with the admissions process covered below. Keystone's Founder and Director, Old Harrovian Will Orr-Ewing, also provides his insights into the process.

What are the different entry points for Harrow?
Harrow has two entrance points:
13 Plus Entrance: Students start in Year 9, when they are typically 13 turning 14 years old. The assessment procedure for Year 9 entry starts 2 years early in Year 6.
16 Plus Entrance: Students start in Year 12, the first year of Sixth Form, when they are typically 16 turning 17 years old. The assessment procedure for Year 12 entry takes place in October/November of the year prior to them joining the school.
Is there an entrance exam for Harrow?
Yes, as an academically selective school Harrow uses entrance exams to select which boys are suitable to gain a place. They use a 3-stage process, with boys being selected to move to the next stage based on their relative performance.
A standard applicant who will not be applying for a scholarship or bursary to come to Harrow should, ideally by the end of Year 5, but definitely by 1 May of Year 6.
Stage 1 Harrow will request a confidential reference from your son's current school at the end of Year 5. If he registers after this point, they will request a reference for him immediately.
Stage 2 is the ISEB Common Pre-Test, usually sat between 1 October and the end of the autumn term of Year 6, which is a computerised test consisting of English, Maths, Verbal and Non-Verbal Reasoning. Do read our blog to find out more about the ISEB Common Pre-Tests.
Stage 3 is Harrow's own test, sat in the autumn term of Year 7. The test comprises of two 15-minute interviews (one with a House Master and another with a Senior teacher), a computerised English and Maths assessment (one hour in total) and a classroom-based group activity.
In the first week of December of Year 7, having completed the Harrow Test, your son will receive one of the following results:
A1 List - the offer of a place at the School in a specific House
A2 List - the offer of a place at the School with a House to be confirmed at a later date
B List - the offer of a place on our Waiting List or
C List - no offer
Offers are subject to a satisfactory performance in either the Common Entrance (CE) or Harrow's Academic Scholarship examinations.
What is the classroom-based group activity?
Although different schools have different approaches, typically there will be some form of task in which the group have to engage in discussion around a particular theme, idea, object, picture or problem. As you might expect, schools will be looking for many of the same 'soft skills' they might within the 1-to-1 interview setting. However, the following are especially key in the group environment:
An ability to listen to others
An ability to work collaboratively with peers
A willingness to contribute (but not dominate!)
A willingness to take onboard different perspectives/opinions
Are there any Harrow entrance exam past papers?
Harrow do not release past exam papers for the Harrow Test. There is a familiarisation test for the ISEB pre-test, and websites that can support preparation including Atom Learning. The Common Entrance is written by ISEB and past papers are available to purchase on the Galore Park website.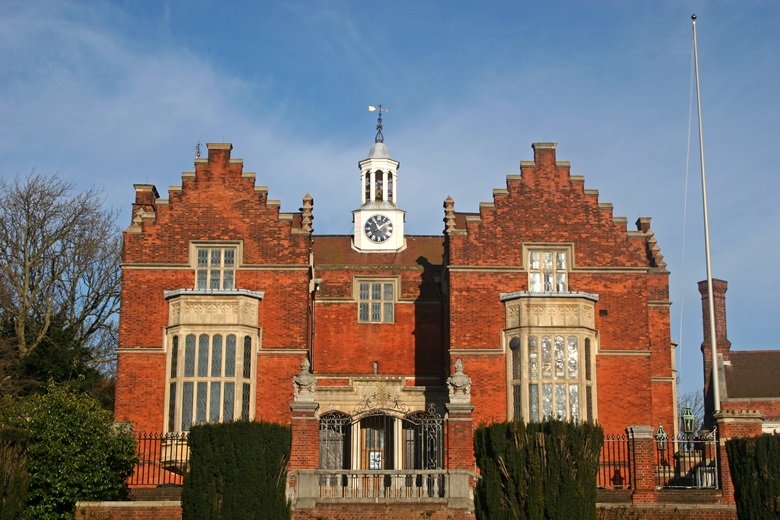 Is it hard to get into Harrow?
Harrow is a selective school and therefore the admissions process is designed to select academically able boys. They are also interested in a boy's extra-curricular interests and will request a reference from his current school. The ISEB Common Pre-Tests and the Harrow Test are both online adaptive tests. This means the questions get more difficult the better a candidate does which increases their Standardised Age Score (SAS). As Harrow is selective, the successful candidates will have a SAS score well above average and will have faced the more difficult questions in the tests.
What is the acceptance rate for Harrow?
Harrow does not publish any admissions data to allow for an accurate answer to this question. However, anecdotally we know that both 13 Plus and 16 Plus entrances are extremely competitive.
At 13 Plus Harrow has around 180 offers are given out for 160 places and 30-40 boys are placed on the waiting list. There are usually around 600 applications.
At 16 Plus Harrow offers up to 20 places each year and usually receives well over 75+ applications.
How do you prepare for the Harrow test?
Harrow does not release past exam papers for the Harrow Test as the tests are all computerised. The tests are designed to determine a boy's potential by testing their cognitive and reasoning abilities. Being able to work quickly and accurately under time conditions are key to delivering a successful performance in these tests.
English and Maths (one hour)
The assessment comprises of five sections: for English, vocabulary, grammar and comprehension; and for Maths, mental arithmetic and problem-solving. The test lasts one hour, and each section has an allocated time allowance. This part of the test is best prepared for with familiarisation of the type of questions likely to be asked. Boys can practice using this familiarisation test and Atom Learning can also support preparation. The Harrow Test are designed to determine a boy's potential by testing their cognitive and reasoning abilities. Being able to work quickly and accurately under time conditions are key to delivering a successful performance in these tests.
Classroom-based Group Activity
It is difficult to prepare directly for this sort of task, and of course students will be 'preparing' whilst at school in lessons where they will be constantly engaging with lots of group activities. Nevertheless, here are some key areas that students might consider in preparation for such a task:
Active Listening: It is key to work on a student's capacity to actively listen. Too many students stumble in this regard by simply being over eager to make a contribution. Pausing before you answer a question/make a contribution is key to this. In a group setting students can be particular poor at listening to each other.
Response to Stimuli: Group discussions are often centred around some form of stimuli whether that be a picture, object, theme or problem. Preparing a student to engage with each of these appropriately is important.
Defining 'Dominance': I think one of the key pitfalls of a group interview is the possibility of one student dominating. Whilst on the whole school interviewers are pretty good at managing this it can help to explain what might be classified as dominating the conversation. This is an important consideration, as many students feel they get marks for the number of contributions they make which is just not the case.
Two 15-minute interviews
One interview takes place with a House Master and the other is with a senior member of the Harrow teaching staff. The aim of the interviews is to give the boys a chance to show their interest in learning and enthusiasm for joining Harrow. Harrow will be looking for a willingness to engage; to offer opinions and take part in debate. Harrow particularly don't want boys to have pre-prepared or rehearsed answers, boys should be relaxed and natural when answering. Interviews will usually involve poetry analysis, debate or picture analysis.
What questions do Harrow ask at interview?
What is your favourite subject?
What is your favourite book?
Which extra-curricular activities do you take part in?
What are your hobbies?
Why do you want to come to Harrow?
Can you get a scholarship to Harrow?
Yes, Harrow offers scholarships in Year 9 for talented boys which are worth up to 5% of the school fees. These scholarships can be supplemented with a means-tested bursary to cover up to 100% of the fees. The scholarship process is highly competitive, with many boys applying for awards and only limited funding being available. At 13 plus entry, Harrow also offers scholarships for Music, Art, Drama and Sport. More information can be found here.
Academic Scholarship
Academic Scholarship candidates are expected to show strong academic ability or potential. The assessment takes place at Harrow and is held over three days in February of Year 8 and comprises an interview and tests in English, Mathematics, Analytical Reasoning, Philosophy and Applied Ethics, General Linguistic Skills and at least three other subjects from Science, History, Geography, French, Latin and Greek. If there is evidence of real achievement in other subjects, such as artwork or products made in Design and Technology, applicants should bring these to the interview.
Harrow announce the results of the Academic Scholarship Examinations in March of Year 8.
Sixth Form Scholarships
Sixth Form Scholarships (normally 5% of the school fees) are awarded for academic, sporting, artistic or musical ability.
16 Plus Entry for Harrow School
Each year, the Harrow School admits up to 20 boys into Year 12. Applicants should apply by early September of Year 11. During the application you will be ask about your son's academic achievements and his proposed A level subjects, which should include the four subjects in which he would like to be assessed as part of his application. The minimum predicted GCSE requirements are at least seven or eight passes (or equivalent) at grade 7/8/9 (A/A*). The applicant will also need to provide:
his curriculum vitae, detailing any special academic achievements and extra-curricular interests;
a one-page handwritten letter to the Head Master, in which he explains why he would like to apply to Harrow;
a copy of his most recent school report, including a brief explanation of his school's grading and reporting system, if this is not printed on the report itself;
a copy of the ID page of his passport; and
the £350 Registration Fee.
Strong applicants are invited for testing. If the school decides not to progress an application to the testing stage, they will refund 50% of the Registration Fee.
16 Plus Entrance Tests
An applicant sits tests in two of his four chosen subjects, either at his school or at a dedicated test session at Harrow, during the autumn term of Year 11. Harrow will request a reference from his current head teacher, which should arrive by early November at the latest. Harrow will then invite a shortlist of boys to an assessment day at Harrow later that month. At this point, an applicant sits the third and fourth tests and has interviews with the Head Master and the Registrars. Offers are sent out in early December of Year 11.
Old Harrovian and Keystone's Founder and Director Will Orr-Ewing gives his insights into applying to Harrow

"I'm sorry to say that, when I applied to Harrow in 1998, it was a much more forgiving process. The only formal assessment was Common Entrance which, like now, was sat in June of Year 8. However, I was also invited up to an interview with my housemaster the year before. This was as much an opportunity for me to see the school as for the housemaster to see me, though I remember an unnerving moment when my parents pulled back on a walk around the school so that Dr Holland and I could speak "man-to-man". (Thankfully the questions he asked were, from what I recall, fairly straightforward: my favourite sports; my favourite subjects etc.) My prep school headmaster supplied a reference too.

The CE pass mark for Harrow in those days was 55% and my prep school drilled us well for it so it did not occasion too many sleepless nights. To my detriment, perhaps, as my results were decidedly patchy - including an 'E' in History. Thankfully the first year at senior school gives you a chance to find the right set for your abilities, and I ended up reading History at university, so few things are set in stone at such a young age!"
Why is Harrow School so popular?
Harrow is one of the four remaining all-boys, full-boarding schools left in the UK and has a long and rich tradition; Harrow is celebrating its 450th anniversary this year. The school is set in 324 acres but is just 20 minutes on the tube from central London making it an extremely popular choice for families that live in London. Harrow has always attracted talented boys from overseas and they are very proud of their diverse community. The school has fantastic facilities - soon to come is a new science building and sports centre, as well as a renovation of the original school building which will be home to a specialist AI and Cognitive Science Centre.
Harrow is highly regarded for its academic results and achievements. In 2021, results were awarded through Teacher Assessed Grades with 80% A* or A at A level. Similarly, at GCSE 95% achieved Grade 9-7. Boys go onto top universities and usually with good numbers to Oxbridge (14 in 2021). Other destinations include UCL, Imperial, King's College London, LSE, St Andrews and Durham. The US is also very popular – in 2021 27 boys went to universities such as Harvard, Yale, Brown, Chicago and NYU.
Consequently, Harrow attracts parents and students with high academic expectations. In our experience, prospective applicants with the following qualities have been competitive candidates in the school's admissions process:
an excellent academic record to date
an enquiring mind and genuine passion for learning
an ability to think critically about their learning
Tuition for The Harrow Test
Each year Keystone supports many students preparing for school entrance exams, including The Harrow Test.
Read more about our Harrow School admissions tutors.
For more details on how Keystone can help with preparation for admissions to Harrow school, please call the office for a chat with one of our client managers, or contact us via our request a tutor form.
Further reading