What does the term SEND mean?
The term "special educational needs and disabilities" constitutes a legal classification that encompasses children who encounter learning difficulties or disabilities that pose greater obstacles to their learning compared to the majority of children their age.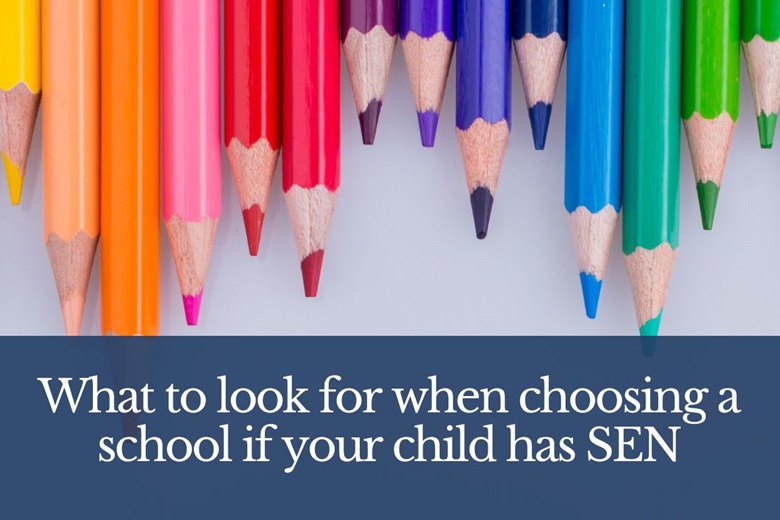 What does 'good' in-school SEND provision look like?
Good in-school SEND provision would include the school following an assessed SEND plan based off the child's Educational Psychology report. This would mean that objectives and strategies are discussed, put in place, and then reviewed formally, with regular feedback provided to parents. It is worthwhile to ask schools how this progress would be communicated with parents, and whether parents are able to see the evolution of the child specific plan.
Are there any particular SEND profiles which are typically more challenging for schools to support or that they are more wary of?
ADHD, ASD and dyspraxia can be seen as more difficult for schools to accommodate than dyslexia, which is, to a certain extent, easier to support. When liaising with schools it is important to share any measures that are already in place to help the child, for example, if a child has ADHD but is well-medicated, then this would reassure the school that their needs are managed and therefore, that the school can support their educational journey.
What are the pros and cons of selective and non selective schools for child with SEND?
Many children with Special Educational Needs and Disabilities (SEND) may not necessarily require specialized schools; however, they will benefit from educational institutions capable of offering the necessary support to help them reach their full potential. For those with more specific SEND requirements, considering specialist schools is a valid option.
The suitability of selective or non-selective schools for a child with SEND hinges entirely on the child and their unique educational needs. It's crucial to assess whether a child can handle the academic rigour and pace of a selective school, while also ensuring that academically strong children are appropriately challenged and motivated to learn.
We recommend gaining a thorough understanding of your child's academic level and specific needs before initiating discussions about the type of schools that would best cater to their requirements.
Is independent or state school better for SEN children?
Providing a definitive answer to the question whether independent or state schools are better for SEN children becomes exceedingly challenging when it isn't approached with a specific individual in mind. Parents must carefully contemplate the state education options accessible to them and assess the level of SEND support these schools can provide. In parallel, they should explore available independent school options, considering their financial feasibility.
Subsequently, parents should embark on visits to the shortlisted schools with an open mind, while also focusing on how well their child might integrate into each institution. They should feel comfortable asking schools pertinent questions related to their child's unique SEND requirements to gain a clearer understanding of the support and accommodations available for children with learning difficulties.
Some people may argue that independent schools are going to be able to offer more support to children with SEND because of:
Smaller school size
Smaller class sizes
More hands on pastoral care
How does an EHCP work in private/independent schools?
To secure a placement for their child at an independent mainstream school funded by a local authority (LA), parents must obtain an Education, Health, and Care Plan (EHCP). Only when parents can demonstrate that the chosen school is capable of meeting their child's specific needs and that such placement would not constitute "unreasonable public expenditure," will the LA consent to designate and fund that school as part of the child or young person's EHCP.
Occasionally, the LA's selection of a designated school, typically a local maintained or state school, may also reasonably fulfill the educational needs of the child or young person while being more cost-effective. In such cases, parents may struggle to persuade the LA to cover the expenses for the chosen school or the required special educational provision.
How to find an independent school with good SEN provisions
Selecting an independent school that excels in Special Educational Needs (SEN) provisions follows a similar process to choosing any school, but with a strong focus on your child's unique requirements. Start by compiling a shortlist of schools, considering various essential criteria such as your child's current academic level, interests, extracurricular activities, location, preference for co-ed or single-sex education, and school size.
Subsequently, evaluate whether these schools have the capacity to address your child's SEND needs. You can gather information from their current school or an Educational Psychologist (Ed Psych) report. Most importantly, arrange visits to these schools and be proactive in asking questions to ensure you make an informed decision.
What type of questions should I ask on a school visit for a SEN child?
Who is offering the SEND support?
Do the members of a school's SEND team have specialist training?
Is support delivered 1-1 or in a small group, or a combination of both?
What does the provision look like outside the classroom?
Is SEND support included in the school fees, or charged as an extra?
Over and above the SEND provision what do you recommend parents of SEND children should be considering when visiting/reviewing schools?
School Timeline/Changing Needs: It is worth remembering that there are different 'break points' through the school timeline. For example, a school might be right for a child from 13-16, but it may be that a different school is suited to support them through their A level years. The factors for a move might be things like, curriculum choice (some schools offer BTEC courses or a wider range of A level options), and/or specific extracurricular activities. It is always advised to thing about whether a school can fully support a child's strengths and interests.
Environment: As with any school selection, choosing the right environment is entirely specific to the individual. Some children with a neurodiverse profile may be better suited to a smaller school, whereas others might enjoy the access to facilities and activities a larger school might bring.
Curriculum: How wide is the academic offering on a subject level? A child with a spiky profile might benefit from a wider range of curricula options.
Mentoring: What is the pastoral mentoring system like? If a boarding school, who will be your child's advocate and buffer between child and teachers?
Leavers' Destinations: Where do leavers typically go? Are pupils typically moving on to university, which may or may not be suitable for your son or daughter, or do some move on to more varied options (art or drama schools; internships and so on).
Further FAQs
How might a parent know if their child has SEND?
In the UK, children undergo routine developmental assessments at the ages of 18 months and three years, in addition to the standard schedule of regular check-ups. During these examinations, a healthcare provider may observe that a child is facing greater challenges in certain aspects of their development compared to other children of the same age. They might also detect issues related to hearing, vision, physical abilities, or behavioural patterns in the child.
In some cases, these difficulties may only become apparent as a child progresses through primary/prep school, and occasionally even into secondary school. In such instances, the child's school will take measures to identify the specific challenges the child is facing and provide additional support as needed. For most children, this support proves sufficient to enhance their effective learning.
What should a parent do if they think their child has undiagnosed SEND?
If a parent suspects that their child may require special educational support, it is advisable to reach out to the Special Educational Needs Coordinator, often referred to as the 'SENCO,' at their child's school or nursery.
What is a SENCo?
SENCo is an abbreviation for Special Educational Needs Coordinator, which can also be expressed in full or as SENDCo (representing Special Educational Needs and Disabilities Coordinator), or simply as SEN Coordinator. These individuals, typically part of a school's teaching staff, hold the responsibility for overseeing matters related to special educational needs.
In the United Kingdom, it is mandatory for every school to appoint a SENCo. Their role is vital in ensuring that every student with special educational needs (SEN) receives the necessary support to help them achieve their full educational potential.
What is an Educational Psychologist?
An educational psychologist (EP) is a certified psychologist with specialized expertise in comprehending the learning processes of children. They maintain close collaboration with educational institutions, including schools and early childhood settings, offering guidance on matters related to special educational needs (SEN). Additionally, they conduct assessments and observations of children facing learning challenges and recommend appropriate educational programs
What is an Educational Psychology Report?
If you have concerns about your child's developmental or learning progress, and the strategies implemented by your child's teacher, SENCo, or nursery worker do not yield the desired results, the next course of action could involve seeking an assessment by an educational psychologist (EP).
The EP will generate a comprehensive report that provides insight into your child's areas of strength and areas that may need improvement. Additionally, this report may include recommendations for tailored teaching approaches, supplementary educational materials, and guidance regarding suitable educational settings that best suit your child's needs.
What are schools really looking at or for when they review an Ed Psych reports?
Schools are going to look at Ed Psych reports to different extents, but they are likely to prioritise looking at verbal comprehension, working memory, and processing speed. They may be excited by a high comprehension school, but concerned about any processing difficulties. Some schools might look at the Ed Psych report's recommendations through the lens of which boxes they can tick.
The reality is that all schools will look at these reports differently, and additionally, they will consider an applicant alongside the rest of the cohort. It may be that they have the capacity to take on a child of neurodiverse programme one year, but the next, won't have the capacity to support another child of a similar profile. SEND departments will have their capacities, and therefore, schools will not want to overstretch unless they are confident they can help.
How can Keystone help?
Tutoring: Keystone are able to provide 1-1 tutoring with specialist SEN tutors to help support a child's academic development.
Consultancy: Our consultancy team are able to work with families where schools with strong SEND support are a priority. Where families require specialist advice and support we work with experts in neurodiversity like Kate King, a former in school Special Educational Needs Co-Ordinator who founded and runs Skylark.
Recommendations: Keystone are able to introduce families to recommended Educational Psychologists and other experts, who will be well-placed to support your child/children.