This report, by Keystone's Head of Education Consultancy, Harriet Blomefield, explores the educational backgrounds (undergraduate degrees and secondary schools) of 'successful' people under the age of 40. To support this research Keystone collated just under 1,000 young people (aged 40 or under) who have been noted for making a recognised impact in their fields of work: business, politics, the arts and so on. We assembled our list from reputable publications such as Forbes' 40 under 40, Harper's Bazaar's 150 Visionary Women, the Evening Standard's The Progress 1,000, and Management Today's 35 Under 35. From these lists, we selected individuals who were under 40 and looked up their university destinations and degree subjects.
By compiling this report, we were hoping to supply empirical findings to support or challenge anecdotal understandings of the extent to which one's school or degree is likely to lead to success in a given career. The outcomes may not come as any huge surprise, but we feel they are worth sharing and certainly merit further comment.
University Analysis
To start with, it is important to draw attention to the fact that 16% of people included in our research did not attend university. Whilst we do not have a clear picture of what each of those included within this quota did as an alternative to university, it does prove that further education is not the essential route to success that some deem it to be. Indeed, those who do not attend university will have to traverse a different path that might involve more persistent networking, grafting, perhaps starting at the bottom and rising through the ranks. The positive takeaway from this research is that a large proportion of young individuals under the age of 40 who are regarded to be successful have not necessarily followed the conventional pathway of degree study to reach their success.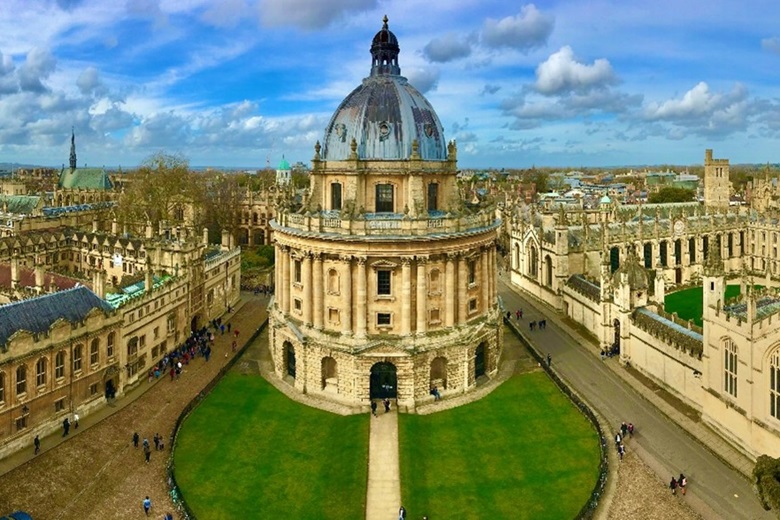 When it comes to the top ten universities to come out of our research, the results are not wholly unexpected. Oxford and Cambridge sit at the top, with a larger slice of the pie (Oxford 9% and Cambridge 7%) than the other universities on the list, with the next highest percentage being 4%. All the universities within the top ten are part of The Russell Group, whose 24 members are noted internationally and are particularly distinguished as research-intensive universities. There are, nonetheless, still a few patterns that emerged that are somewhat interesting.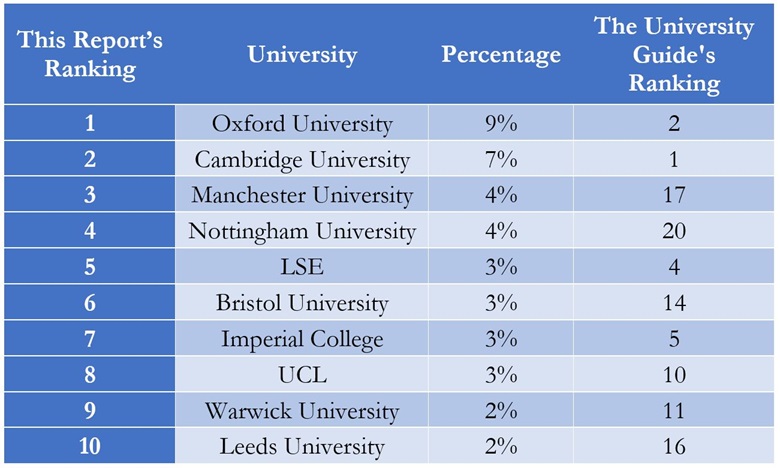 (Is) London calling?
Three of the top 10 universities are London based – these universities (LSE, Imperial and UCL) are hugely popular choices with both British and International applicants. The question is, can we read anything from the fact that three out of the top ten universities are situated in London? Does living and studying in London give greater access to careers opportunities within the university experiences?; does being in the capital city have an incentivising effect on how people plan their futures, or simply, do these universities attract a larger number of individuals who target the sorts of jobs that fall into the 'success values'?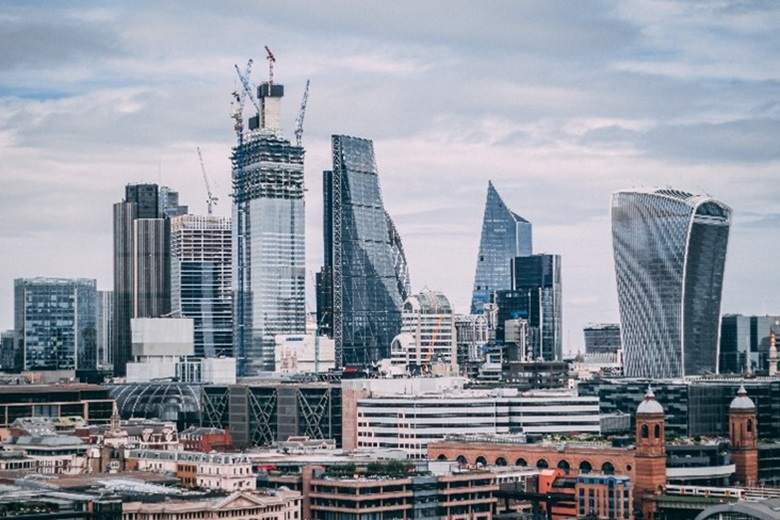 Getting into a university that is popular with employers is great, but it does not guarantee a job. There is, nonetheless, a chance that, simply due to their location, London universities get more access to employers in such a way that companies go out of their way to meet and engage with students. Industries such as banking will target universities that offer highly reputable courses and produce candidates with strong academic credentials, they will have teams of people going into top universities to promote their industry as a career. If you wanted to pursue a career in Law there might be added benefits of being in London due to proximity to the Supreme Court, prominent barristers' chambers, and offices of international laws firms. The list goes on, but the findings here indicate that London universities have a slight edge when it comes to careers opportunities.
Our Results vs University Rankings
As we always advise against fixating too much on rankings, we would encourage those reading this analysis to do so with a considerable pinch of salt. That said, if we compare the top 10 from our study with The Complete University Guide's league table, there are some notable absences.
St Andrews takes the bronze medal after Oxbridge in the mainstream university ranking yet does not appear in the top 10 following our research. Another notable absence is Durham University, a destination frequently included on shortlists of those applying to the most elite UK universities, which attracts a high quality of applicant across all subjects. Why, then, does it not make the top 10?
On the flip side, universities such as Manchester, Nottingham, Warwick, Bristol, and Leeds all feature on our table, yet appear lower down in The Complete University Guide's rankings. Admittedly, they are still successful players across both rankings and are all within the esteemed Russell Group. The universities presenting the most significant contrast with their place on the official league table are Manchester, Nottingham, and Leeds, which all feature at the latter end of the top 20 yet sit in the top 10 of our research.
Degree Subject Analysis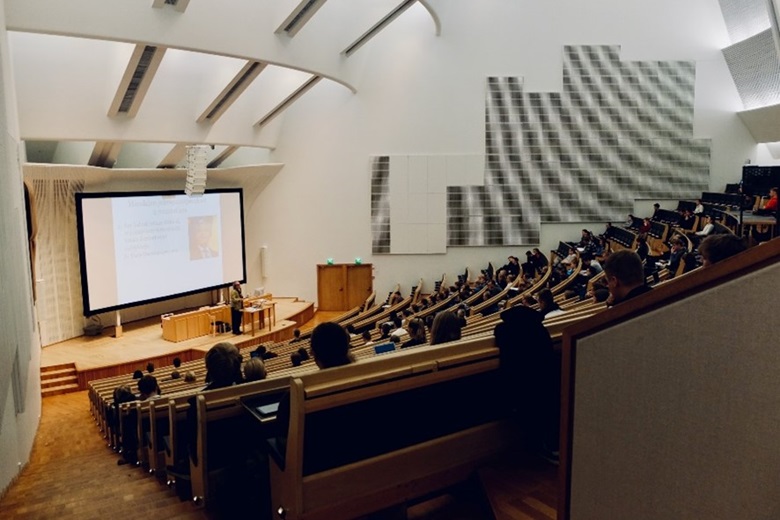 We are often asked by parents: what degree subject will give my child the best chance to do well in life? Ultimately, this question is impossible to answer as everyone has their individual concept of success – but when it comes down to it, more often than not, people tend to be defining success as having career security, financial prosperity, and power.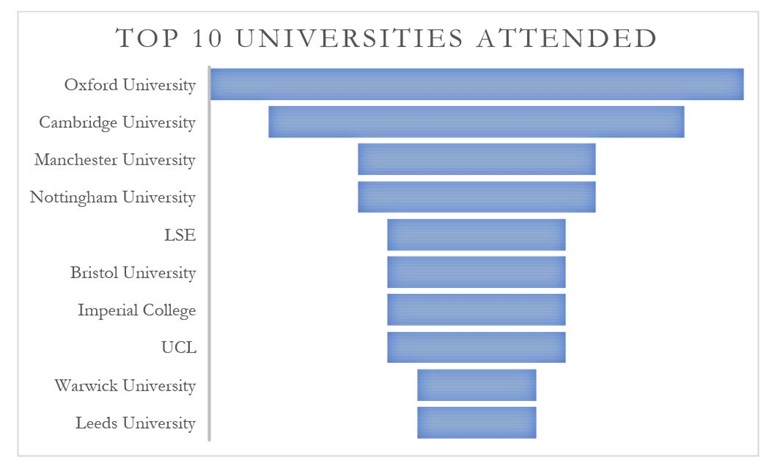 As noted earlier in this report, 14% of those included as 'successful' in their field of work, did not attend university at all. The University of Life has furnished them with the abilities and life skills that have enabled them to flourish in their chosen field. That said, these individuals may well be succeeding in fields that have fewer academic requirements at entry-level and are less likely to be operating in vocational environments.
When considering this topic, one also has to consider the 'types' of people who are valued and considered by awards such as Forbes 40 under 40. In this year's list, for example, Forbes stated that "we're highlighting 40 influential people in each of five categories: finance, technology, healthcare, government and politics, and media and entertainment". Those included are chosen by a panel, but anyone can nominate a potential candidate.
There has been a growing trend in school leavers choosing degrees that are more focussed on the end goal, whether that is opting for a degree directly linked to a career (e.g. Engineering; Law), or one that fits more closely with the skills required for a career path (e.g., Economics to banking). What is encouraging, nonetheless, is that History, ranked fourth, remains a popular degree choice for successful individuals.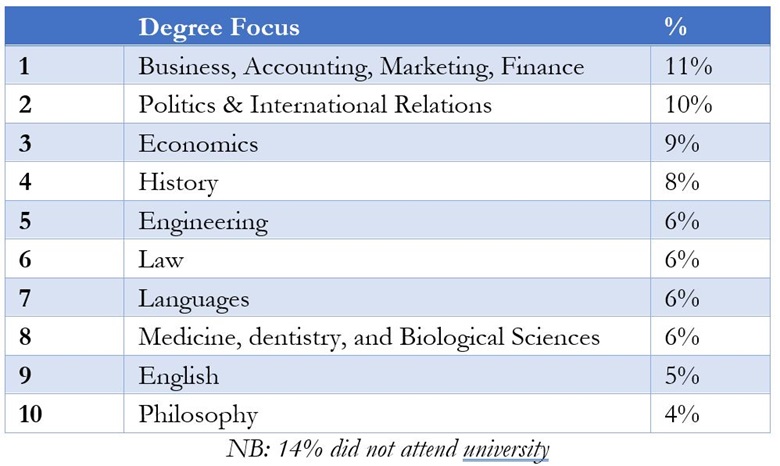 In summary, there are no surprises in that financial and politically related degrees sit at the top of the results – these are popular subjects that offer a broad but competitive range of career paths – from banking to politics. The vocational degrees listed, Law, Engineering, Medicine are equally expected as these studies can lead straight into some of the most financially lucrative careers, and if not lucrative, into careers where the person can make a significant impact or impression. The fact that History, Languages, English and Philosophy are all in the top 10 is interesting as these career choices can be seen by some as being less impactful in terms of careers options. Their inclusion highlights the fact that these nonvocational degrees, particularly when taken at top universities, can open as many doors to success as the more targeted options.
Top Degree Studied by Sector
Once again, our research did not uncover any huge revelations. It came as no surprise, for example, that those who read Law at university were likely to go into the legal profession. As we have already touched upon, those reading vocational degrees are more likely to move into specific subjects, which therefore means that they are on their career trajectory from the moment they start at university.